Visibility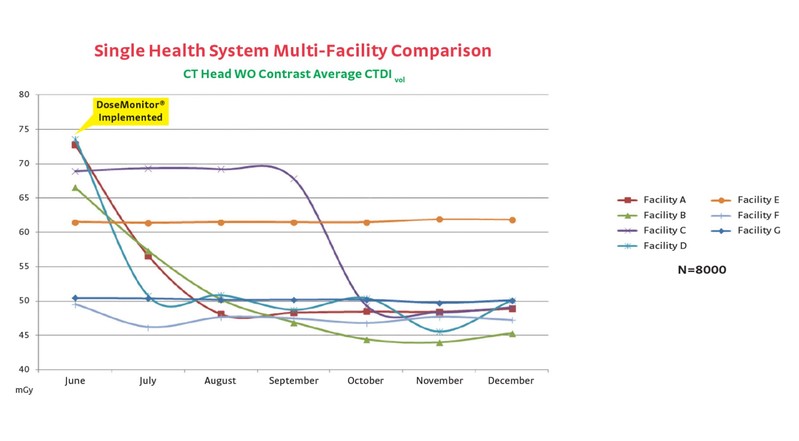 The DoseMonitor PACS-based automated system provides healthcare facilities of all sizes enterprise-wide visibility from day one into patient radiation dose exposure throughout the hospital or health system.
Insight when and where you need it 
DoseMonitor offers providers the greatest access to and flexibility in how you see, use and export dose data regardless of a hospitals size or configuration or number of modalities, units or even PACS systems. 
It is the only automated patient radiation dose monitoring system that enables providers to track a patient's dose history through multiple PACS, departments, and even facilities in the same system, wherever the study is conducted (Radiology, Cardiology, Cath Lab, Mammography).
With enterprise-level data acquisition, DoseMonitor provides visibility into your organization, to  aggregate, interpret, compare and report ionizing radiation data on a patient, study, physician, technologist or device basis in a single, customized report.  Identify outlier devices and procedures as well as technicians who may need training, to better manage consistency, adhere to protocols, improve quality and comply with regulatory requirements.
DoseMonitor's single server, browser-based design means zero-desktop footprint, and along with a user-friendly interface, makes for easy access from any PC with a web browser, including mobile devices.  This design (which does not require a separate connection to each scanner) also results in a system that can adapt with you and with evolving standards, protocols and technologies.  In a market filled with uncertainty and change, DoseMonitor is the solution that can grow with you.
DoseMonitor is modality and PACS vendor neutral and offers multi modality support (CT, XA, DR, MG).
Dose History
Real-time patient dose history for better-informed decisions
DoseMonitor's real-time access to patient dose history across units, departments and facilities supports better-informed decisions.    Physicians and technicians have access to pre-visit, real-time and historical data, including historical patient dose profile, for every patient when an exam is ordered.
Data can be acquired via DICOM-SR, OCR, MPPS or calculated values based on the calibrated history of an individual unit.  DoseMonitor will use the most accurate and appropriate data acquisition method available for each study.  Data is updated in real time and customized alerts are sent via email or HL-7.
Alerts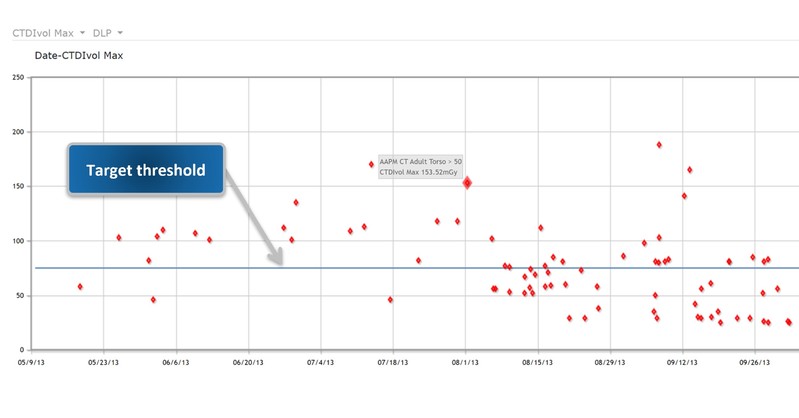 Customizable alerts & notifications increases patient safety
DoseMonitor's customizable, real-time alerts can be set for any system parameter (e.g., any value for any procedure, patient type, and dose) and can be directed to any group.  Pre-visit, if the patient's history exceeds your facility's threshold, DoseMonitor will send an alert.  Email notification reports patient jacket summary, study level statistics, and modality level statistics before additional exposure occurs. 
Reporting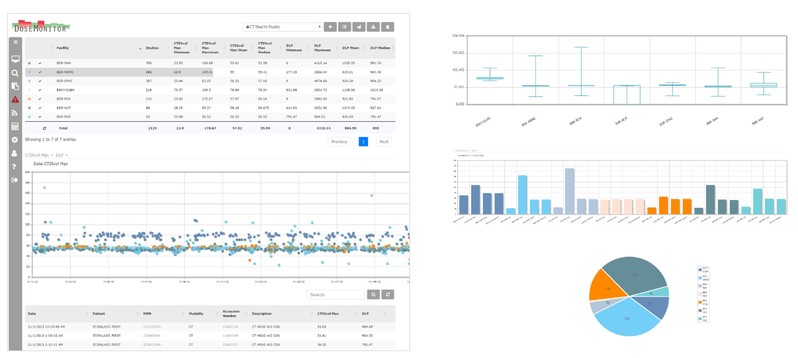 User defined intelligent reporting delivers insight, improves efficiency, reduces error
DoseMonitor offers flexible reporting and enables easy access to dose data by device, facility, technologist, physician, procedure, and by patient.
View single-page study details (including technique and protocol information), pull up a study level work list (with links to patients and studies) with a simple Google-style search, or compare enterprise-wide data for QA, utilization, variance analysis and modality reporting.
DoseMonitor's automated data collection and reporting to RIS, EMR, dictation/transcription and (in an anonymized format) to the ACR's Dose Index Registry (NRDR-DIR), means no change in workflow, reduced physician and technician time and reduced potential for error.
PACSHealth is a certified partner with the ACR and DoseMonitor's server platform includes the DIR functionality at no additional cost so you can report and benchmark your facility against other providers.
DoseMonitor integrates with automated voice recognition dictation/transcription systems via an API or HL-7.
Global Dose Registry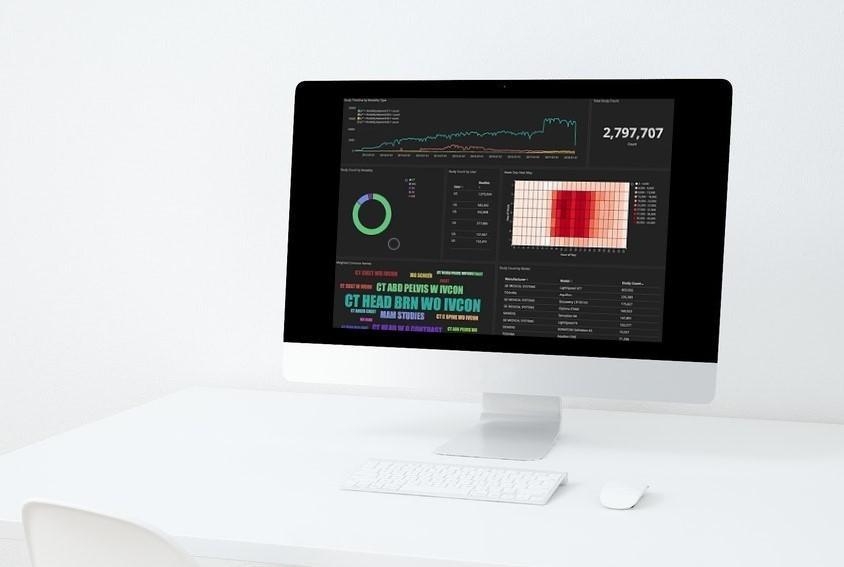 DoseMonitor® presents the new Global Dose Registry™
The Global Dose Registry™ allows users of DoseMonitor® to compare the radiation dose of a patient's exam to the global database. Radiology departments can now compare at the exam-level to the enterprise, facility, device, manufacturer, operator, patient to the machine-specific exam protocol within the Global Dose Registry™ in real time within DoseMonitor.
Integrated seamlessly into DoseMonitor®, the industry's top rated radiation dose monitoring software.

Immediately compare dose values such as CTDIvol, DLP, Stationary CTDIvol and total contrast delivered within the current exam window.

Allows for confident reporting and improvement of imaging practices, image quality, and patient safety.

Compare against millions of anonymized studies from facilities worldwide.

Automatic data collection, no separate server required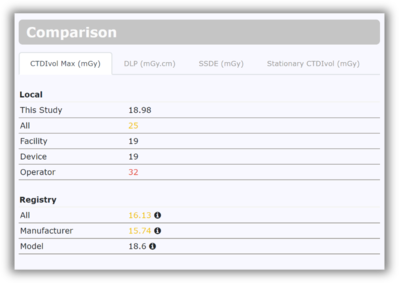 Implementation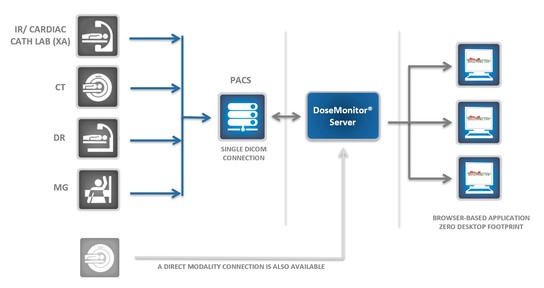 Rapid data access, streamlined implementation, lowest total investment
DoseMonitor's single server, browser-based design facilitates rapid implementation with minimal IT resources required regardless of hospital size or configuration by using Microsoft Windows Server 2008 and MS-SQL 2008 standard.
DoseMonitor provides the greatest visibility and connectivity, in a PACS-based system that adapts to changing requirements.  With a zero desktop footprint, dose data, alerts and reports are accessible from any PC with a browser, including mobile devices.
And, our upgrade inclusive maintenance lowers the total cost of ownership.
Unlimited modality connections, user and workstation licenses
Accelerated Implementation timeline
All upgrades and updates are included in the maintenance fee
Server options include virtual hardware (VMware) as well as customer provided Dell, HP or IBM solutions. 
Productivity
See more now.
With DoseMonitor, real-time monitoring of procedure volume, modalities and technicians enables improved utilization, identification of outlier equipment, and opportunities for staff education and training.
Clear dashboards provide a quick view for top patients, procedures or modalities as well as easy access to detailed patient and study data.
Examine productivity in real-time with enterprise-wide volume monitoring by modality.
Compare enterprise-wide data for QA, utilization, variance analysis and modality reporting.
Identify patterns and anomalies with summaries of patient and study notifications.